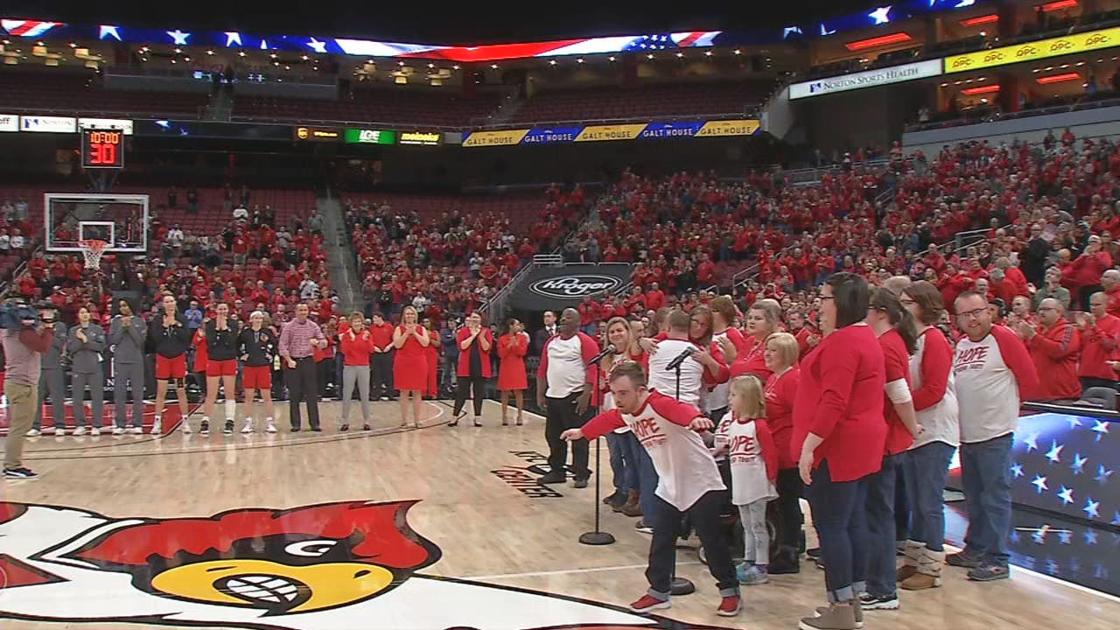 LOUISVILLE, Ky. (WDRB) — There was a long, loud ovation after the National Anthem was sung at the U of L women's basketball game at the KFC Yum! Center last Thursday, but the cheers weren't for any celebrity.
Instead, they were for the choir that sang it: a group of men and women with developmental disabilities who came together to show that challenges are meant to be overcome.
On Thursday evening, while the U of L women's basketball team warmed up before the big game, so did the Bible Study group from Southeast Christian Church that was chosen to sing the National Anthem. A couple of years ago, the group — made up of people of all ages with developmental disabilities — decided they wanted to form a choir.
They formed the H.O.P.E. Choir. The letters stand for "Helping Other People Succeed."
"We have people with physical disabilities," said B.J. Levis, the H.O.P.E. Choir instructor. "We have people that might be deaf, or hard of hearing, low or no vision. We have some people with Down syndrome and some people that just have intellectual disabilities."
As a teacher at U of L, she connected the choir to the basketball team.
"Some of the girls for extra credit in class actually came to our practice and sang with us too," Levis said, adding that it was "a great stress reliever for them, and of course, our guys loved it."
Molly Lockhart, a forward for the U of L women's basketball team, said the choir is inspirational.
"They face such different types of problems, and then you, like, realize how grateful you have it, because if they can be so positive, why can't we?" she said.
Head coach Jeff Walz spent a lot of the pregame time meeting the choir and being thankful that his players focus on more than just the game.
"It's serious to all of us, obviously, but at the end of the day, it's a game," Walz said. "And then we have the opportunity to meet young men and women here that, you know, it's something they're battling for life and learning to continue to try to adapt."
The H.O.P.E. Choir has sung Christmas Carols at church and the National Anthem before U of L baseball games and volleyball matches.
This is their latest opportunity, and choir member Reagan Mayer said she can't believe it.
"I think that's awesome!" she said. "I never dreamed that was going to happen!"
As they belt out the National Anthem, it's clear they are a confident choir.
"I guess I'm a talented lady!" Catelynn Alpiger said.
Lockhart said she's impressed.
"They're great!" she said. "They sing better than I do, for sure!"
And the crowd let them know they're winners with a standing ovation.
Walz stressed that, for his players, it can't just be about expecting 10,000 to 12,000 to show up for their games. They have to give back to the community. And he's happy that they are doing just that in many ways, including the H.O.P.E. Choir.
Copyright 2020 WDRB Media. All Rights Reserved.