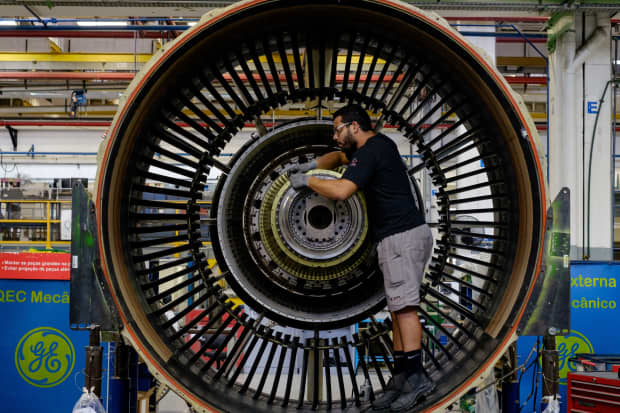 AFP via Getty Images
Shares of General Electric Co. charged higher in toward a four-month high active trading Friday, on growing hopes that Boeing Co.'s grounding 737 MAX planes will be able to fly again soon.
The industrial conglomerate's stock GE, +6.18%, which is headed for the highest close since June 15, shot up 6.0% in afternoon trading, enough to make it the biggest gainer among the S&P 500 index's SPX, +0.62% components. Trading volume was 126.2 million shares, enough to make the stock the second-most active on the New York Stock Exchange.
European Union Aviation Safety Agency Executive Director Patrick Ky said in an interview with Bloomberg that the safety upgrades Boeing BA, +2.80% made to its MAX planes could mean they can return to European airspace by the end of the year.
The 737 MAX aircraft have been grounded since March 2019, following two deadly crashes within a five-month period.
GE's aerospace division, which makes engines featured in the 737 MAX aircraft, reported in July a second-quarter revenue decline of 44% from a year ago, making it by far the weakest of the company's major business segments. For the third quarter, the FactSet revenue consensus for GE Aviation of $4.93 billion implies a 39% decline.
Don't miss: GE's stock sinks, as CEO Culp can't call a bottom in the Aviation business.
Boeing's stock rose as much as 5.6% intraday before paring some gains to be up 3.2% in morning trading.
GE's stock has still dropped 34.7% year to date, while Boeing shares have shed 48..2% and the Dow Jones Industrial Average DJIA, +0.92% has gained 0.8%.