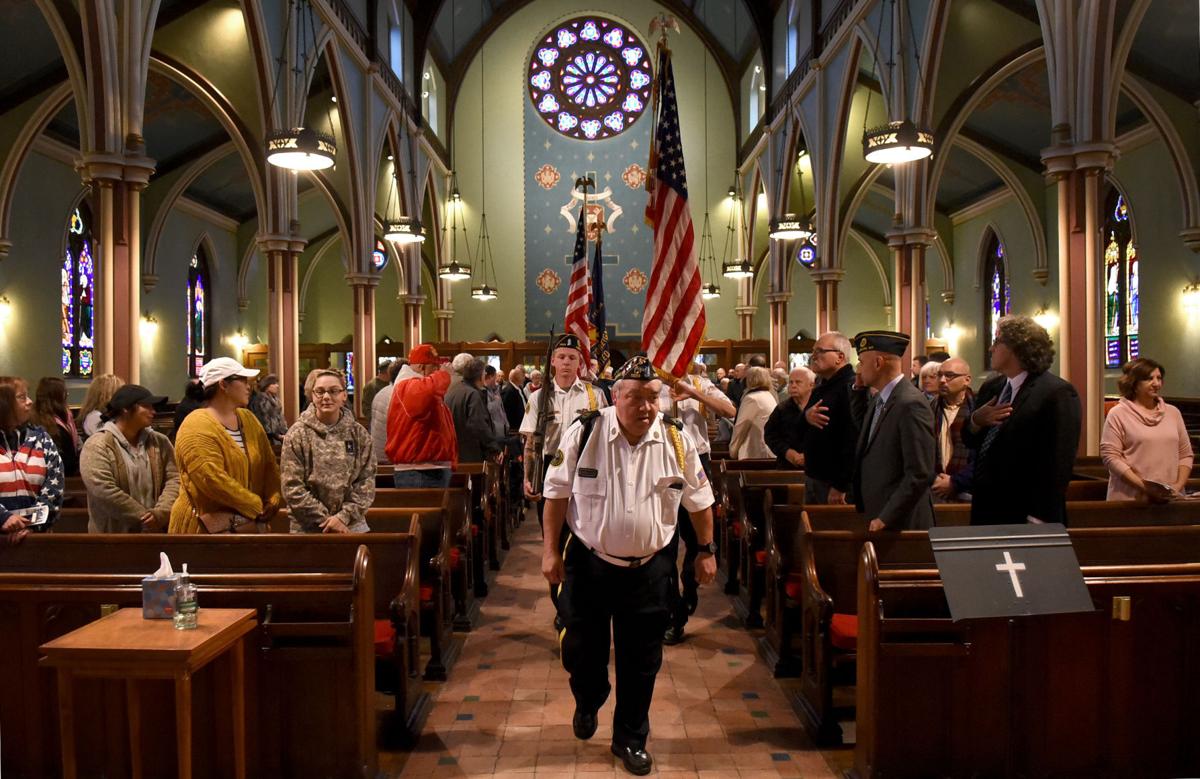 A color guard opens the Veterans Day service at SS. Peter & John Episcopal Church in Auburn in 2019.
Kevin Rivoli, The Citizen
As we prepare to observe Veterans Day, I want to thank all veterans, active duty military and families for your service.
The American Red Cross has been dedicated to serving people in need since 1881, when Clara Barton founded our organization with our first chapter in Dansville. Barton had provided aid and comfort to soldiers on the battlefield during the Civil War, and we have carried on that very important mission. We received our first congressional charter in 1900 and, to this day, we are tasked by the federal government with providing services to members of the American armed forces and their families, as well as providing disaster relief in the United States and around the world.
Here at home, we have four Veterans Affairs Hospitals within the western New York region, as well as a Military Entrance Processing Station where individuals are prepared for enlistment or induction into military service. In the past, Red Cross Service to the Armed Forces volunteers visited the MEPS to meet with new service members and their families, providing them with information on the support systems available from the Red Cross. We had to put a temporary hold on those visits due to the pandemic, and are now contacting them virtually. Our team of regional caseworkers is working virtually to provide a menu of outstanding service to our active duty service members, military families and veterans.
Support Local Journalism
Your membership makes our reporting possible.
Through our Hero Care Network, caseworkers help military families communicate with their loved one and facilitate their return home to deal with emergencies at home. They follow up with members of the military who have requested financial assistance. SAF volunteers also provide veterans with referrals to local, state and national resources through our strong network of community partners. The Red Cross assists veterans and their families in preparing applicants' claims for veterans' benefits.
Bruce Ressner is a virtual caseworker, generally processing 30-40 communications per week. He served 30 years in the U.S. Army, including tours in Haiti and Bosnia providing humanitarian assistance. "I joined the military to help others, and the Red Cross gives me the opportunity to keep contributing, supporting our armed forces and giving back to veterans," he said. "I was brought up with a middle-class morality of service to others." As a veteran himself, Bruce is particularly grateful that he can share his own experiences to help fellow veterans make their transition to civilian life easier upon their retirement or discharge.
Even while the Red Cross adapts to meet the changing needs of the people we serve, we always stay true to our roots. We aspire to turn compassion into action so that all members of our armed services, veterans and their families find support and comfort whenever needed.
Lisa Taibi is regional program manager for Service to Armed Forces & International Services of the American Red Cross. For more information, visit redcross.org.
Get local news delivered to your inbox!