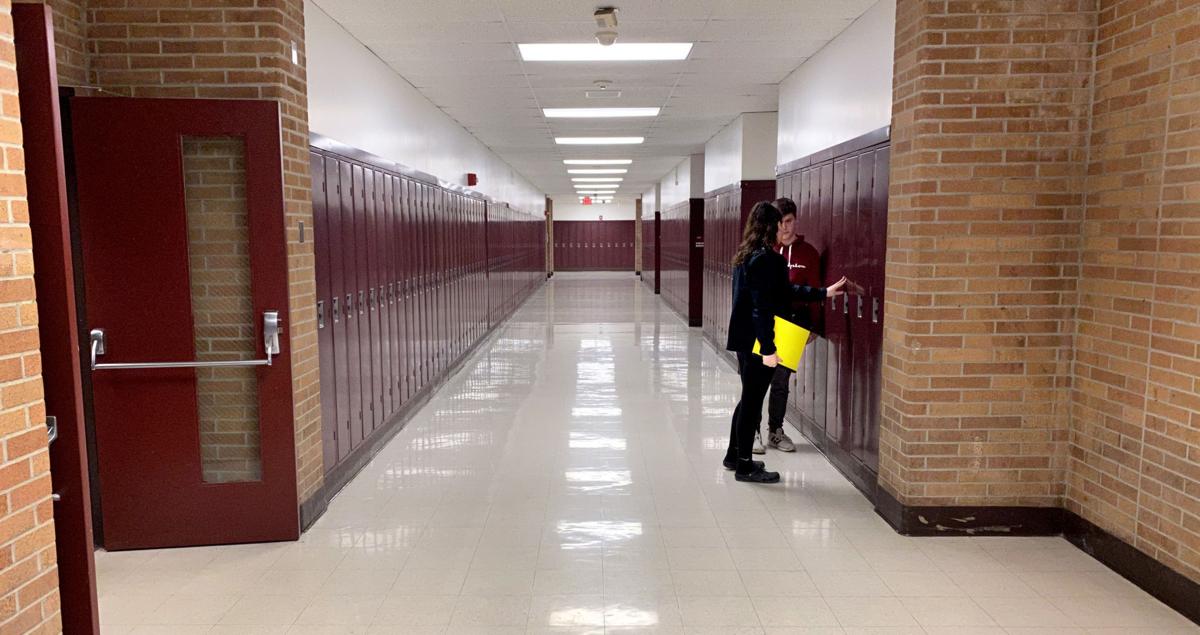 Auburn High School opens in April for students stop in to pick up items after all schools in Cayuga County closed due to the coronavirus pandemic.
Kevin Rivoli, The Citizen
The union representing New York teachers is suing the state for withholding school aid payments, even as the state Division of Budget says the funding won't be withheld this month.
New York State United Teachers filed a lawsuit in state Supreme Court Wednesday over the reduction in state school aid payments. Beginning in June, the state withheld 20% of aid payments because of the financial crisis caused by the COVID-19 pandemic. The union argues that it's unconstitutional because it allows the executive branch to bypass the state Legislature, which has "oversight and policy-making powers."
The reduction in aid, albeit temporary, has been harmful to school districts. Some have laid off employees because of a lack of funding. In Cayuga County's largest district, the Auburn Enlarged City School District, a 20% reduction in aid for the 2020-21 school year would amount to a $9.6 million loss in state funding.
"Time is up," NYSUT President Andy Pallotta said. "With the loss of state funding driving cuts at the local level in districts around the state, we can't just keep waiting for action at the federal level to fund our schools. At this point, a lawsuit unfortunately is the necessary next step to compel our leaders to do what's right: Fund our future and stop these cuts."
Freeman Klopott, a spokesman for the state Division of Budget, blasted the lawsuit in a statement Wednesday. He said it's "frivolous" and "uninformed" and claimed there hasn't been a 20% cut to school aid.
He added that the state is awaiting federal help to offset an estimated $62 billion revenue loss over a four-year period. Gov. Andrew Cuomo has said New York needs at least $30 billion in aid to erase a budget deficit that he says is due to the pandemic.
"In fact, the state has paid nearly 100% of funds to school districts," Klopott said. "We will work with our partners in government to address any remaining gaps in federal assistance and, in the absence of federal funding, any future actions will take school district need into consideration — NYSUT should stop with the nonsense and lies, and focus on Washington and the federal funding we need, not distract attention."
Later in the day, the state Division of Budget announced that no school funding would be withheld in September. But NYSUT noted that there has been funding withheld over the last few months, which should be paid to the school districts.
Jillian Witchey, president of the Auburn Educational, Secretaries and Paraprofessionals Association, said she was "pleasantly surprised" to learn of NYSUT's lawsuit. While she acknowledged it's unfortunate because of the reductions in state aid, she said it was needed because of the "devastating" cuts school districts made due to the lack of funding.
"They're doing it on behalf of districts," Witchey said. "It's going to help districts and more importantly, it's going to help the kids. It's a hard time to work in education, but it's a good time to be a member of NYSUT when they do something like this."
Politics reporter Robert Harding can be reached at (315) 282-2220 or robert.harding@lee.net. Follow him on Twitter @robertharding.
Sign up now to get the most recent coronavirus headlines and other important local and national news sent to your email inbox daily.