President Donald Trump has been accustomed to going into an election trailing his Democratic rival in polls and still coming out victorious. But this time around, the margin is even greater and the polls may be more accurate.
Four years ago, Americans felt confident Democratic candidate Hillary Clinton would win the election. Going into the final month of the 2016 election, Trump trailed Clinton by about three percentage points. But when election night came, Trump took the White House by way of the Electoral College.
Now the incumbent in the White House trails Democratic candidate and former Vice President Joe Biden by about seven-percentage points, according to a RealClearPolitics average.
At least publicly, Trump doesn't put a lot of stock in polls and is known to dismiss those that show him as the losing candidate. While his accusations that polls are "fake" are unproven, the president has a point that the surveys aren't always an indicator of the outcome of an election, especially when considering the Electoral College.
Months-long polling giving Clinton a victory in 2016 were partially to blame for why Trump's election night win came as such a surprise, and experts have yet to issue the final verdict on why the predictions were wrong. But a 2017 report from the American Association for Public Opinion Research identified three main reasons: people changed their vote preference close to the election; college graduates were overrepresented in polls; and Trump voters didn't reveal their candidate.
While polls were wrong that Clinton would win the election, on a national level, the report noted that they were fairly accurate. Polls that put Clinton ahead of Trump by about three percentage points were "basically correct," because she won the popular vote by about two percentage points more than Trump.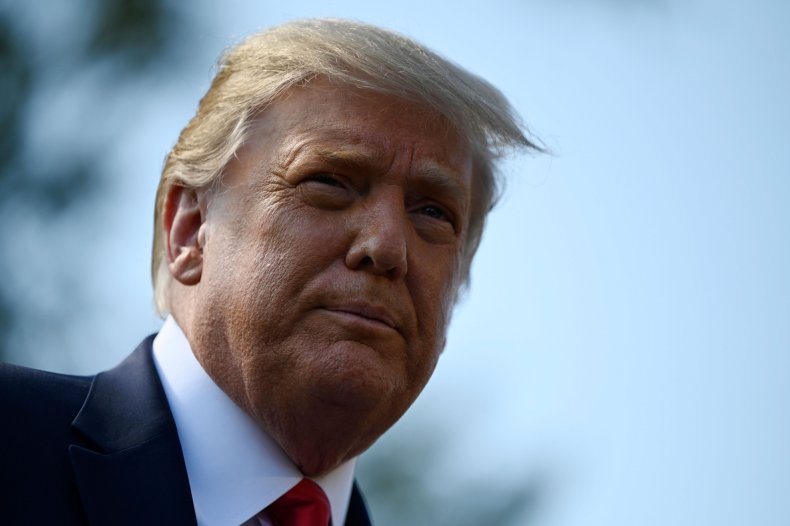 President Donald Trump speaks to the press as he departs the White House in Washington, D.C., on Wednesday. Going into the final month of the election, Trump trails Democratic candidate Joe Biden by about six percentage points.
Andrew Caballero-Reynolds/AFP/Getty
It's possible the same could be true for 2020, and Biden's support on the national stage won't be reflective of how many Electoral College votes each candidate receives. However, if he can maintain the lead he has now, John Geer, a professor of political science at Vanderbilt University, told Newsweek it's a "real problem" for the Electoral College.
Polls are also assuming the electorate will look like it did in 2016, Geer said, when voter turnout in the Black community—a loyal voting bloc for the Democratic Party—declined during a presidential election for the first time in 20 years. If Black voters turn out how they did in 2012—a record-high year—Geer said Biden could have an even bigger lead.
"I wouldn't want to bet a lot of money on either of them because there are so many unknowns. But the trauma, so to speak, that the Democrats faced with the surprising loss in 2016 continues to shape 2020 and there's a lot of concern about getting people to vote because a lot of people didn't in 2016," Geer said.
Part of the reason state polls were wrong in 2016 is that pollsters didn't give education the proper weight to adjust for an accurate sample of well-educated and less-educated respondents. Voters with at least a college degree went for Clinton by more than 20 percentage points while Trump took the non-college grad vote by seven percentage points, according to Pew Research. However, when broken out by race, Clinton's lead among white college graduates shrunk by four percentage points, while Trump's advantage with white non-college graduates increased by 29 percentage points.
In Midwestern states where there are large working-class populations, this could account for why state-level polls still showed Clinton with a lead and why Trump's victory was such a surprise. However, The New York Times noted that some state-level polls in Wisconsin and Pennsylvania that gave proper weight to education still put Clinton on top.
Biden leads Trump in Wisconsin and Pennsylvania by about five percentage points. Around the same time in 2016, Clinton also had an almost five-percentage point lead in Wisconsin and a three percentage point lead in Pennsylvania, although she'd widen the margin between her and Trump in Pennsylvania to more than nine percentage points in the middle of the month.
A month later, Trump won Wisconsin and Pennsylvania by a slim margin of less than one percentage point. He also won Florida by 1.2 percentage points, just about the same margin polls gave Clinton to win at the beginning of October. Winning those three states, gave Trump 59 of the 270 Electoral College votes needed to win.
A slim victory is still a victory when it comes to states that award all their electoral college votes to one candidate, as is the case in every state except Maine and Nebraska. But it also means that had there been a slight change in the wind, it could have gone the other way—making it a possibility that Trump might not win those states again.
After the 2016 election, pollsters took a "very hard look" at how they conducted their surveys, Geer said, and made adjustments for where they went wrong. Polls in the 2018 midterm election proved to be a relatively good predictor of the election and nonpartisan polls taken in the three weeks prior to people casting ballots were more accurate than the average poll since 1998, according to CNN.
"Like generals, we always fight the last war," Geer said. "We're focusing on state polls. But if Biden wins this election by eight points nationally, he's going to win Electoral College."